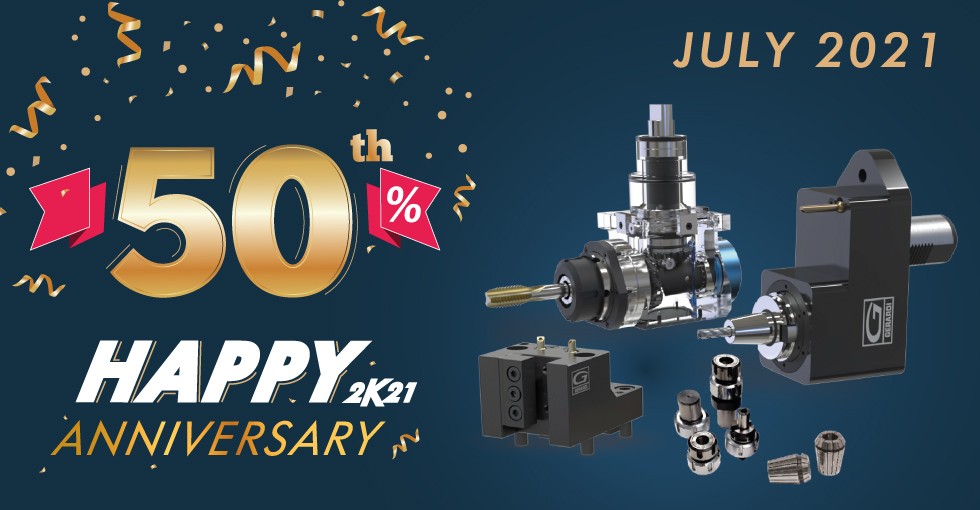 For our 50th anniversary only for July 2021 the Driven Tool kits up to 50% off!

Driven tools for CNC turning centres allows milling, drilling and tapping operations on the lathes without additional parts handling. Also in this case Gerardi can suplly a wide range of types in order to equip the CNC lathes and turrets of the most popular builders on the market with an unbeatable price/quality ratio
.
3 SAVING KITS PURCHASING THE GERARDI DRIVEN TOOLS:
50% OFF: Purchasing  1 Driven Tool + 1 Quick Change Adaptor Of Your Choice
40% OFF: Purchasing  1driven Tool +1 Static Tool Of Your Choice
30% OFF: Purchasing  5 Driven Tools +5 Collets Of Your Choice
.
WHILE STOCK LAST – OFFER NOT CUMULATIVE WITH 2021 SPECIAL OFFER
—
50th HAPPY ANNIVERSARY SPECIAL OFFER
To celebrate our 50th anniversary, every month starting from January 2021, one surprise product offered with 50% off! Do not miss the chance, stay tuned on our social networks, newsletters and website to discover the special products offered month by month!