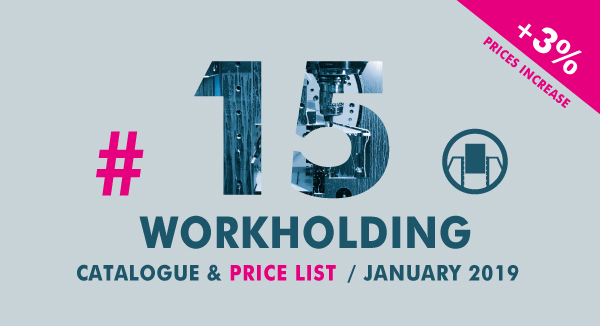 The new Workholding 15-2019 is now available on our website. You can download all chapters pdf files both in catalogue or pricelist version.
Soon will be also available the printed copies. Discover some main news below

General 3% price increase on all items starting from January 1st, 2019.  Make sure to check the new price list!

In order to satisfy all our costumers' requests, also the most demanding ones, we have further increased our Multiflex accessories range. Download the full chapter by the botton below.

New self-centering pneumatic & hydraulic GripMatic vises with soft movable jaws, new quick change tables for CompactGrip vises and many other new accessories!

Also the Zero Point chapter introduces a lot of innovation products as new risers for Zero Point and the double Zero Point to speed up more the set up times.

A grid modular magnetic plate with bushings for the quick positioning of workpieces, pallets or clamping fixtures, born thanks the meeting between two innovative tecnologies already known and appreciated, the zero point and the magnetic clamping of the workpiece.