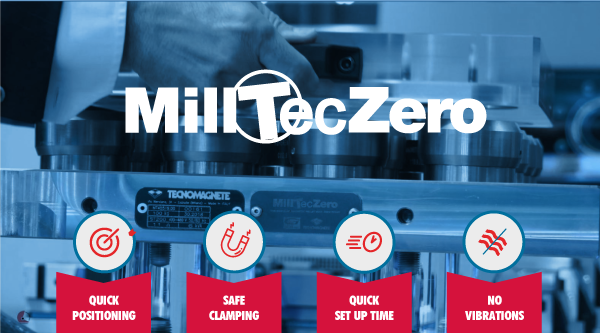 It is a grid modular magnetic plate with bushings for the quick positioning of workpieces, pallets or clamping fixtures, born thanks the meeting
between two innovative tecnologies just known and appreciated, the zero point units and the magnetic clamping of the workpiece


The Zero Point units are designed for matching with the conical pins pre-setted on the workpiece to be clamped on the grid magnetic plate and
are positionable where you need.


Accurate grid holes with hardened bushing are positioned in the free & neutral positions of the steel plate.  MillTecZero can be equipped also with adjustable heights with complete support turrets for the workpiece.


Magnetic electro-permanent circuit, monolithic built with an integral metal surface. No resin on the top side for great reliability and long lasting time. The MillTecZero electro-permanent magnetic circuit is intrinsecally safe: the magnetic force (up to 16 Kg / cm2 in polar area) is insensitive to any power supply interruptions, allowing totalautonomy when used on pallets.

Double effect circular mobile pole chucks create a flexible magnetic bed that can clamp itself to the workpiece and lock it firmly. The clamping force is distributed uniformly over the entire contact surface. Possibility to adapt to every shapes & dimension of the workpiece

The control unit XT200 combines strength, lightness and compactness. The ERGON 5 reinforced connector guarantees great reliability and easy maintenance. The command is arranged with a rear hooking system for easy vertical positioning on the machine.