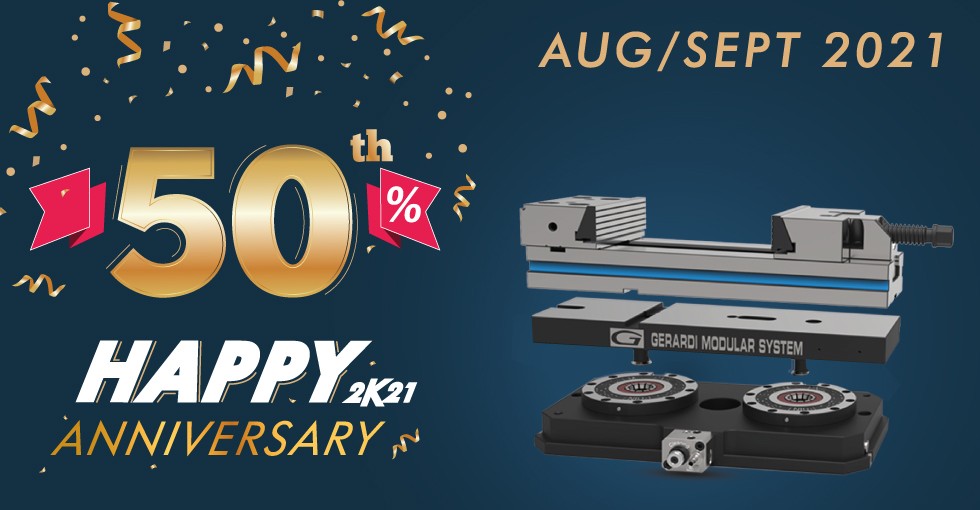 For our 50th anniversary only for August & September 2021 the Zero Point saving kits up to 50% off!

The Zero Point is an immediate positioning and clamping system, that represents the ideal solution for the positioning and the precise, fast and firm clamping of the equipments on the machine tools.The Zero Point is a system "NORMALLY CLOSED", that uses die springs which allows the clamping of the pull-stud through the spheres located inside,
while the filtered and lubricated compressed air enables the release only so there is no need to keep pipes connected constantly to the fixture.
.
2 SAVING KITS PURCHASING THE ZERO POINT KITS:
50% OFF: Purchasing 5 Zero Point Plates At Your Choice  –  (Down payment required in case of open order! Min € 2.000 – Max 20%)
40% OFF: Purchasing 1 Zero Point Plate + Connecting Plates And Vises At Your Choice
.
WHILE STOCK LAST – OFFER NOT CUMULATIVE WITH 2021 SPECIAL OFFER
—
50th HAPPY ANNIVERSARY SPECIAL OFFER
To celebrate our 50th anniversary, every month starting from January 2021, one surprise product offered with 50% off! Do not miss the chance, stay tuned on our social networks, newsletters and website to discover the special products offered month by month!